Nihilism and spiritualism
By Cecilie Nyman
Expressionism was an ism, in the art terminology, adopted by the German artists in 1905-1926. Until then Gauguin, Cezanne and Van Gogh worked with the colors in a new expressive way. Matisse, who loved the use of bright colors and rough paint strokes, was the father of The Fauves – the French pendant to the German Expressionists.
Now a short history of the German Expressionists.
We are in Germany in the beginning of 1900. People are immigrating to the city in the name of industrialization, searching for work and prosperity, soon facing a life of poverty, depression and emptiness. Furthermore the Great War is threatening. It is a time of meaninglessness and religious doubt, increased by Darwin's theory of origin of the human and Nietzsche declaration that God is dead. An existential vacuum is created. The man feels lost.
The artist feels the urge to paint out loud and wild. He feels the urge to build a bridge between the present and the creative future. Die Brücke arises. The members are Fritz Bleyl, Erich Heckel, Ernst Ludwig Kirchner and Karl Schmidt-Rottluff. Later members were Emil Nolde, Max Pechstein and Otto Mueller.
The group of the primitive and provocative Expressionists was founded in 1905 in Dresden. They were greatly influenced by Matthias Grünewald (1475-1528), noted for his intensely expressive Christian art, and by the Post expressionists: Gauguin and Vincent van Gogh:
– 'Exaggerate the essential, leave the obvious vague.' Vincent van Gogh.
Another inspiring source was the work of early expressionist Edvard Munch (read my post on Edvard Munch).
German Expressionism is a bold and bitter protest movement and a style of modern art. The colors are bold, orange, blue and black. The expression is dark and raw like a deep roar.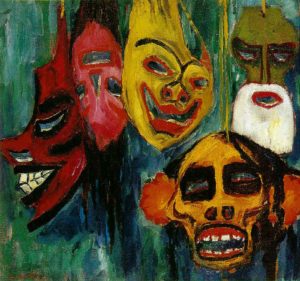 Another group of Expressionists was Der Blaue Reiter. The group was formed in Munich and had members like the Russian born Wassily Kandinsky and the German Franz Mark, Paul Klee, Gabriele Munter and August Macke. They were spiritual Expressionists. The pure colors have expressive powers; by the use of colors they were able to express an inner sound of things. Especially music and primitive art influenced the group. They believed in freedom to experiment and express an inner sphere.
The two groups didn't exist for long, but their influence on modern art is great. The term Expressionism did not firmly establish itself until 1913.
Next time I will take you to Austria to visit the "rock'n' roll" artist, Egon Schiele.
Until then you can read more about the German Expressionism on Wikipedia: